Statbot Documentation
Building Your Community With You
So Many Stats!
From Message to Voice to Activity stats and much more around the corner, Statbot gives you per-member and per-channel statistics that are otherwise impossible to see. Stored securely in our systems, you can access you stats from anywhere whether it be through our dashboard or your Discord server!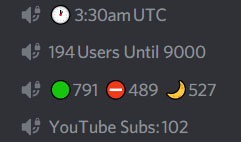 Channel Counters
Create custom channel counters such as clocks and total member goals! Channel counters can even include multiple counters at once such as showing the number of online, DnD, and idle users all in one channel name! With a powerful dashboard configurator at your disposal, Statbot's channel counters are the gold standard!
Roles With Stats
Traditional level roles are static in nature: users keep their roles forever once obtained, even if they later become inactive on the server. Statroles instead use a member's stats over a range of time to reward and remove roles. This ensures that only those who remain active are getting those vip benefits in your server! A sure-fire way to increase retention!