important
You must have the Manage Server or Administrator permission to add a bot to a server.
Steps to Invite
Just 4 easy steps away from tracking. Let's go!
1. Click the Link
THE LINK
1.5
(Log in to Discord if are not already.)
2. Select a Server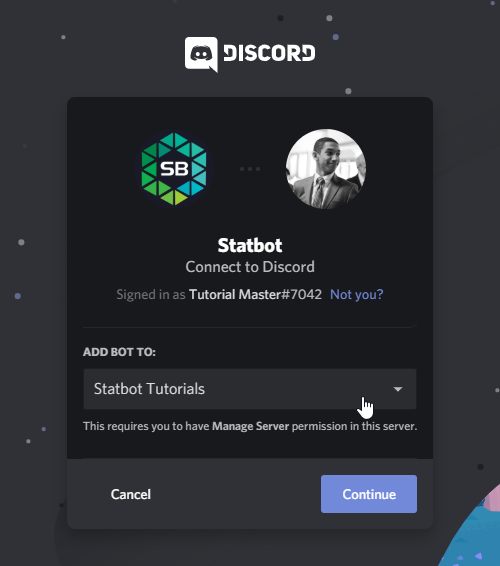 3. Choose Default Permissions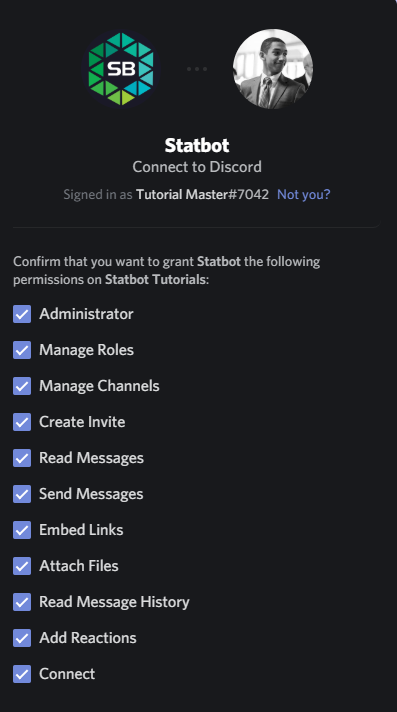 Select permissions that you want to give the bot by default. You can always change these in Discord. Here's a quick list of what Statbot does with each one:
Administrator (not required): Gives all permissions so you don't have to worry about them! Bot will be able to see all channels to begin tracking immediately.
Manage Roles: Required for Statroles (automatic roles based on stats).
Manage Channels: Required for Statdocks (channel counters).
Connect: Required for Statdock (channel counters).
View Audit Log: Allows Statbot to give whoever invited it a nice welcome message upon joining the server!
Read Messages: Required to track messages and respond to commands.
Send Messages: Required to respond to commands.
Embed Links: Required to respond to commands.
Attach Files: Required to send graphs and .csv files with relevant commands.
4. Authorize
And you're done! If you need more help, watch the video demonstration below. When you're ready, go to the next page to learn about setting up the bot.
Additional Material
Video Demonstration
This video explains how to add any bot to Discord, using Statbot as an example.