important
You must have the Manage Server or Administrator permission to add a bot to a server.
Steps to Invite​
Just 4 easy steps away from tracking. Let's go!
1. Click the Link​
THE LINK
2. Select a Server​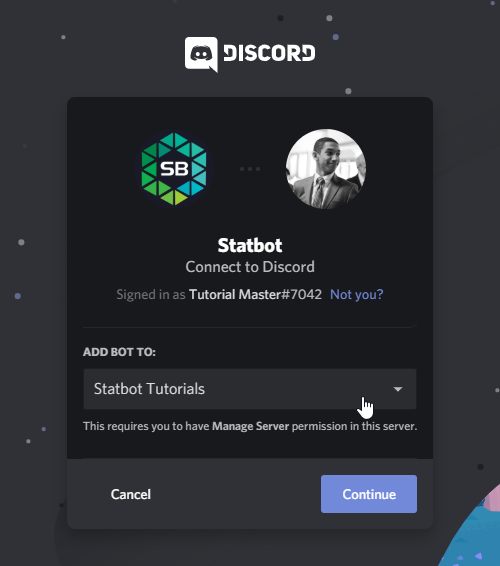 3. Choose Default Permissions​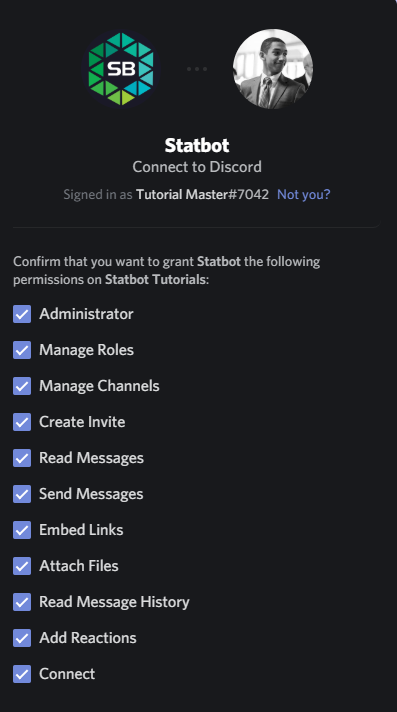 Select permissions that you want to give the bot by default. You can always change these in Discord. Here's a quick list of what Statbot does with each one:
Administrator (not required) — Gives all permissions so you don't have to worry about them! Bot will be able to see all channels to begin tracking immediately.
Manage Roles — Required for Statroles (automatic roles based on stats).
Manage Channels — Required for Statdocks (channel counters).
Connect — Required for Statdock (channel counters).
View Audit Log — Required for the upcoming Invite tracking feature.
Read Messages — Required to track messages and respond to commands.
Send Messages — Required to respond to commands.
Embed Links — Required to respond to commands.
Attach Files — Required to send graphs and .csv files with relevant commands.
Read Message History — Required for prefix commands. (All commands are supported through prefix and slash.)
4. Authorize​
And you're done! If you need more help, watch the video demonstration below. When you're ready, go to the next page to learn about setting up the bot.
Additional Material​
Video Demonstration​
This video explains how to add any bot to Discord, using Statbot as an example.