premium
Upgrades can be purchased on the upgrade page by any member of a server. You can support both Statbot and your own favorite communities for less than a cup of coffee!
About​
Premium is an essential part of many bots without which none of us would be here right now. Statbot processes and stores the data for hundreds of thousands of servers and this requires upkeep that would otherwise be impossible without the continued support of our Premium subscribers!
By contributing to Statbot, you are among the few that keep this great system available for the many, and you are rewarded for it. Below are the available upgrades you can choose from.
Thank you for your consideration!
At A Glance​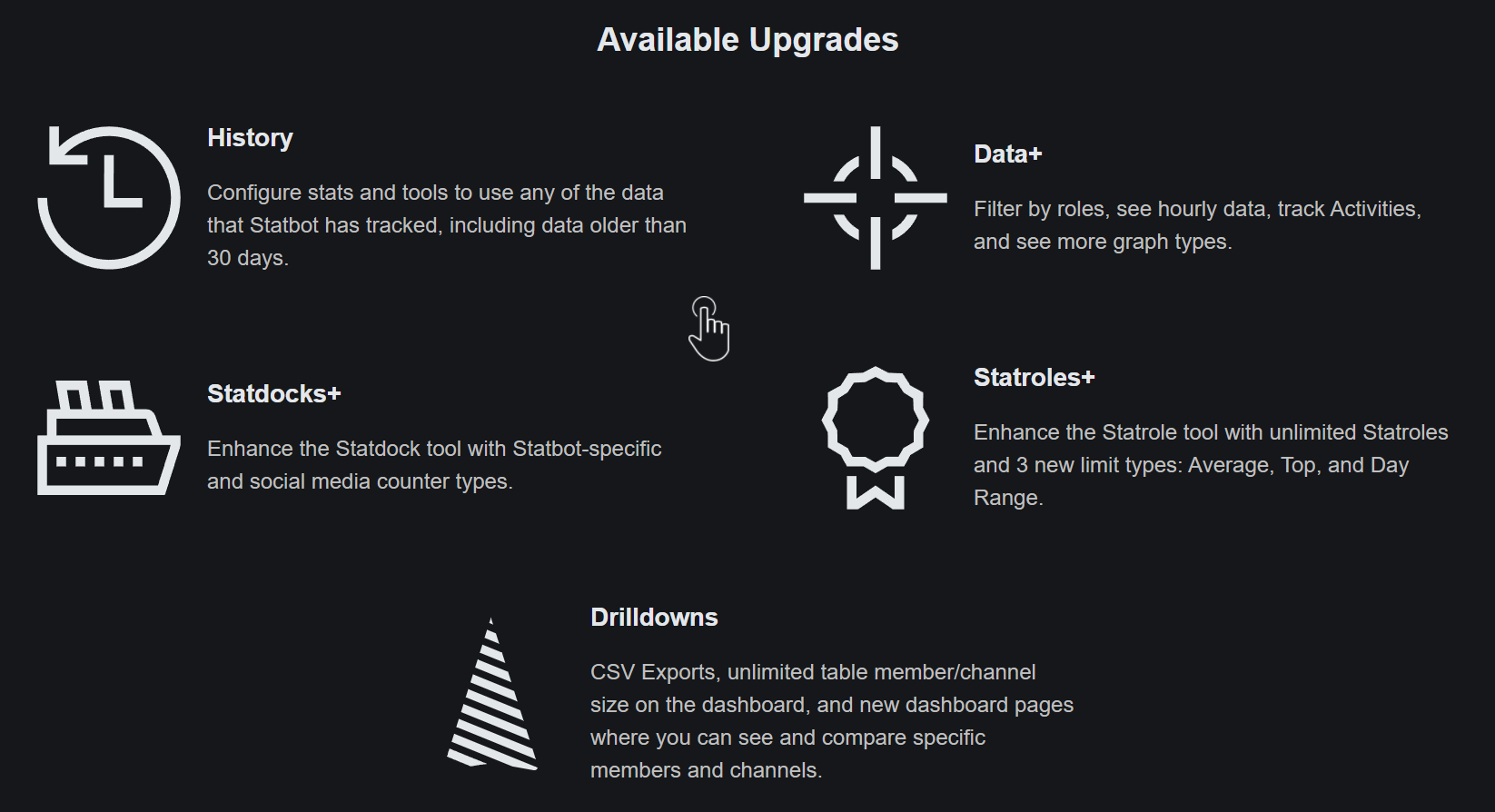 There are five upgrades available:
| Upgrade | Description |
| --- | --- |
| History | Data older than 30 days is accessible on all features. |
| Data+ | Access to Role Filters, Activity stats, etc. |
| Drilldowns | Access to more detailed Dashboard pages, CSV exports, etc. |
| Statroles+ | More Statroles, more Conditions, custom schedules, notifications, etc. |
| Statdocks+ | More Statdock counter types and on-the-minute updates. |
Read the descriptions below to find out more and which upgrades may be best for your team and community!
tip
Some upgrades amplify the value of others, such as History's access to old stats, and Data+ unlocking Role Filters for all features.
Choose What You Want​
Statbot's premium system may be different than what you've seen from other bots. We allow you to pick and choose your server's upgrades. This gives you the freedom to only pay for what you want and even split the load across multiple people.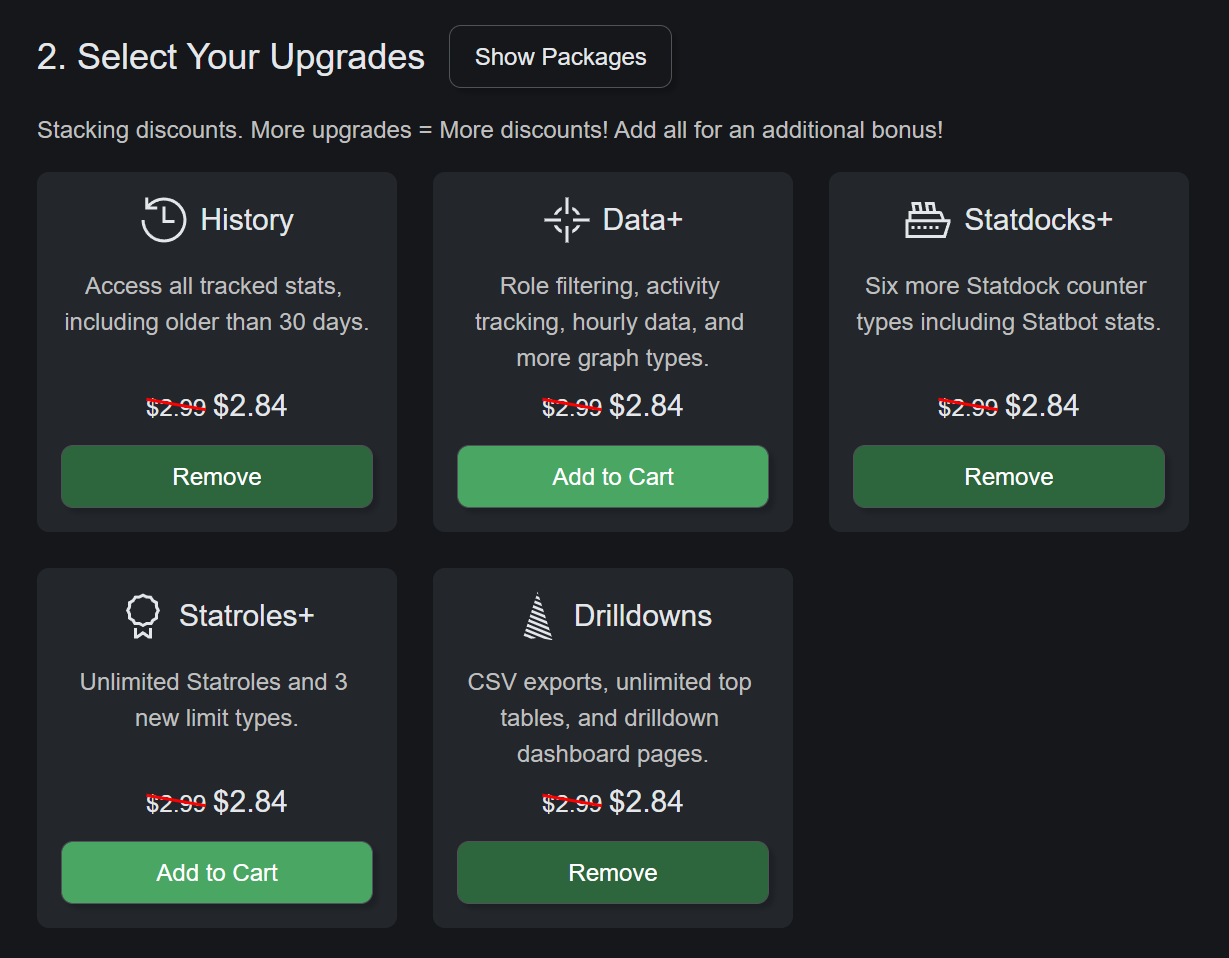 You are rewarded the more you contribute. As you add more upgrades to your subscription and subscribe for longer, you get stacking discounts which can unlock all of Statbot for a fraction of the normal price!
Upgrades​
tip
History and Data+ enhance other the other upgrades.
History​
History is the staple for any Statbot veteran. It allows you to configure your server's Lookback setting and other features to use all of the data Statbot has.
This upgrade is special in that it increases the value of all Statbot features. If you are considering supporting Statbot or a community in any way, the History upgrade is the best way to do so!
caution
In most cases, stats from before Statbot was added to a server and irrecoverable. The History upgrades unlocks stats that Statbot has tracked. If you just invited the bot, this may want to wait a bit before getting this upgrade.
Data+​
Data+ is a powerhouse that opens up many new possibilities for using Statbot.
Role Filters make it much easier to filter large groups of members
Activity Tracking tracks games and applications that your members are using
Heatmaps give a new way to see your intra-day data
Inverted, "Minimum 0", and "Any Activity" Statroles
Together with History, Data+ allows you to unlock the full power of Statbot's tools!
Drilldowns​
Drilldowns is no slouch either. It unlocks CSV exports on the dashboard, and unlimited member in Top Tables on the dashboard and the /top command.
More notably, it unlocks the Analytics, Member Drilldown, and Channel Drilldown dashboard pages. These are highly-specialized views that any power-user is remiss without.
Analytics is a new kind of bird's eye view of the server. It brings Message and Voice stats together into a single pane of glass that you can use to hunt out patterns in engagement.
Channel Drilldown shows individual channels that you select side-by-side and giving you an idea of how your members are using them.
Member Drilldown similarly shows individual members that you select side-by-side giving you a better idea on where and when they've spent their activity.
As with all the other stats dashboard pages, these pages use Statbot's powerful Dashboard Query Bar making it a cinch to save and share your queries with the team. The Channel and Member Drilldowns have special Filter Presets that even save the channels / members you have added to them!
tip
When Drilldowns is active, you can click select members and channels in tables on the website by clicking / tapping on them. Then you can quickly pivot to the relevant Drilldown!
caution
Member access to Drilldowns features requires certain permissions. You can read more about this under Role Permissions.
Statroles+​
Statroles+ unlocks the ability to make as many Statroles as you want, and many new settings
No limit on # of Statroles
Multi-condition Statroles with the Match Condition
Activity Condition
Joined Age Condition
Account Age Condition
Compare Condition
Statrole Condition
Top Limit Type
Day Range Limit Type
Permanent Statroles
Notifications
Faster role updating
Custom scheduling (using cron
premium
Additionally, get Data+ for Inverting Conditions, Inactivity Roles, and Roles Filters.
Statdocks+​
Statdocks+ unlocks 7 additional counter types and removes the update offset
Stat Count — Sum of Statbot stats.
Stat Average — Average of Statbot stats over time.
Stat Change — Change of Statbot stats from one time period to the next.
Stat Top — Top member or channel determined with Statbot stats.
Reddit Subscriber Count — Subscriber count of a Subreddit.
YouTube Subscriber Count — Subscriber count of a YouTube channel. YouTube subscriber count is rounded to, at most, 3 significant digits (e.g. 100, 1k, 10k, 100k, etc). This is a limitation of YouTube itself.
Twitter Follower Count — Number of followers of a public Twitter account.
info
With Statdocks+, clocks that update every 10 minutes will update on the tenth minute. (e.g. 1:00, 1:10, 1:20, etc.)
Upgrade Matrix​
You can find a table of Upgrades to Features here.
FAQ​
How do I view / cancel my subscription?​
Log into the website, click your user profile in the top-right, and go to Subscriptions. If you are already logged in, you can go directly to https://statbot.net/me/subscriptions.
How do I view my server's subscriptions?​
Active upgrades will be glowing gold on the server's Settings > General page. On this same page, Administrators will be able to access the server's Subscriptions menu on the sidebar. This is an anonymous view of the server's subscriptions. The owners of the subscriptions and other sensitive information is not visible.
Do you offer refunds?​
Our refund policy is outlined in our Terms of Service.
Is there a trial option?​
Not currently.